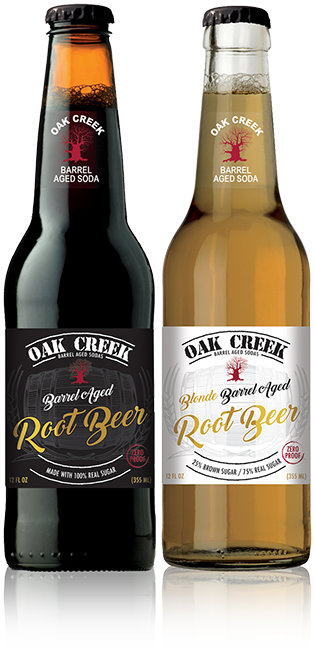 Through a decade long journey, the team of Master Soda Craftsmen at OAK CREEK cultivated a unique process in which traditional sodas can be delivered in multiple varietals through time honored barrel aging techniques. This passion project was inspired and influenced by the rise of the barrel aged culture of wine, beer, and spirits. For the soda connoisseur with an eye for innovation and a thirst for a unique drinking experience, OAK CREEK Barrel Aged Sodas represent the next evolution of craft soda.
OAK CREEK uber-premium Root Beers are hand-crafted in American Oak barrels with a medium char which increases the oak's influence on the color, aroma, flavor, and overall style.

Naturally flavored and made with real sugar, each small batch of OAK CREEK Root Beer spends no less than ONE YEAR aging in the oak so that the full benefits can be drawn out and delivered to your glass.



Oak Creek Vintage Root Beer is a traditional root beer turned upside down. Well, more like turned on its side and then aged in an oak barrel for 1 year. It's an homage to the first hand-crafted soda concoctions at soda fountains of the 50's, but with a modern twist. Share your Vintage!


On the palate, the oak's influence highlights the rich flavors of caramel, vanilla, cinnamon, clove, and wintergreen with a smoky finish.


On the nose, the initial impression comes from the spice of vanilla. There is a pleasing wintergreen backdrop supported by some great smoky notes.


Compliments the spice and tang of barbeque ribs, pulled pork, and chicken. Poured over vanilla bean ice cream, it makes for the perfect root beer float. Reduced, it yields unique glazes and sauces.



Oak Creek Blonde Root Beer showcases the mastery of the barrel aging process. Though lighter in color than its Vintage counterpart, OAK CREEK Blonde fully delivers on velvety rich taste. The color in this lovely liquid is solely a result of the 25% Brown Sugar used to sweeten the batch. Share your Blonde!


An incredibly smooth and sweet root beer with a long lasting finish of molasses. The barrel aging of the soda results in a full bodied and luscious texture layered between sweet and spicy.


On the nose, oak's primary influences tend to accentuate aromas that center around the spice rack, with Madagascar vanilla, cinnamon, nutmeg, and "allspice" being common aromas derived from time spent in oak.


Pour over cinnamon ice cream for a decadent float, enjoy with a rich turtle brownie, or serve with a salty snack like pretzels or popcorn.


For more information about Oak Creak Barrel Aged Sodas, please call James Akers at (847) 224-0778 or complete the form below.